edited by Sophia Russell

The trend report by industry experts

Getting married this year? Don't worry, we have got you covered with all the latest!
Here are the top wedding trends for 2019 according to leading celebrity wedding experts:

Wedding Styling

Colin Cowie, the party and wedding planner of choice for celebrities like Jennifer Aniston, Tom Cruise, Jennifer Lopez, Oprah Winfrey, Ryan Seacrest and Kim Kardashian comments:
"I've never been one to do trends— I'm much better at creating them. When you work around your client's unique DNA and cater everything guests smell, touch, taste, see and hear to that DNA, you end up with something unique that truly tells a story.
Of course, being in the industry for as long as I have, I can quickly pick up on a few things we can expect to see in 2019: keep an eye out for the return of modern, contemporary, minimalist looks; this year, less is more. Out with the over-the-top floral walls and in with non-traditional florals composed of wheat or grass.
Round ceremonies are something I've always enjoyed designing because they ensure friends and loved ones are no more than a few feet away from the couple, creating a more intimate atmosphere. Eco-friendly weddings will definitely be trending this year, and with that will continue the rise of vegan meal options.
I've also begun to see many couples request limited phone use throughout their celebrations, keeping everyone present and unhidden by a phone screen. Without the constant iPad and phone use, a creative way to stay away from the usual photo wall is to create an interactive vignette that doubles as a photo opp."


Invitations & Wedding Stationery

Giant Invitations is one of the leading luxury wedding invitation companies (commonly chosen for celebrity weddings including Vanessa Williams) comments:
"Metallic hot stamp foiling has always been popular and it continues to grow. This year we will expect to see a higher demand for copper foiling, followed by the popular rose gold foiling. You will also see more nature inspired invitations and softer touches including the use of watercolours and deckled edges. A popular trend for 2019 includes adding your own custom illustration of the venue to the invitation!
Taking a page from the traditional and classic designs, interlocking monograms and monogram wreaths are back! Using the couple's initials, monograms are an amazing way to add a personal touch.

Lastly, there will be a greater demand for custom designed envelopes. Expect to see more bold coloured envelopes and linings."


Bridal Gowns

From the Bridal Fashion Week, we found 2019 gowns will include plenty of bows, sparkles, statement sleeves, halter gowns, capes, touches of colour, multi-tiered dresses, and as Alin Le' Kal (the celebrity couture designer who just debuted his collection at Paris Fashion Week) comments:
"Designers are just loving feathers! It is going to be everywhere. Crystals and Feathers, you can't go wrong! I think we could possibly still see feathers in 2020."


Flowers

Floret is a multi-award-winning flower farm specialising in growing unique, uncommon and heirloom flowers. Considered one of the leading 'farmer-florists', it is no wonder they have over half a million followers on Instagram and been raved about by countless publications.
When it comes to the biggest trend in 2019, Floret comments:
"Locally-grown, seasonal flowers. For brides, there is nothing quite like clutching a bouquet filled with fresh, fragrant flowers grown with love and harvested by hand by a local flower farmer or from a floral designer's own cut flower garden. Thankfully, this trend is becoming more and more common, as awareness and interest in local flowers continues to grow and the number of new flower growers specializing in seasonal blooms expands around the world."
In the photo of this bridal bouquet, you will see sustainably grown flowers including Floret's fragrant sweet peas, peonies, digitalis and other seasonal blooms.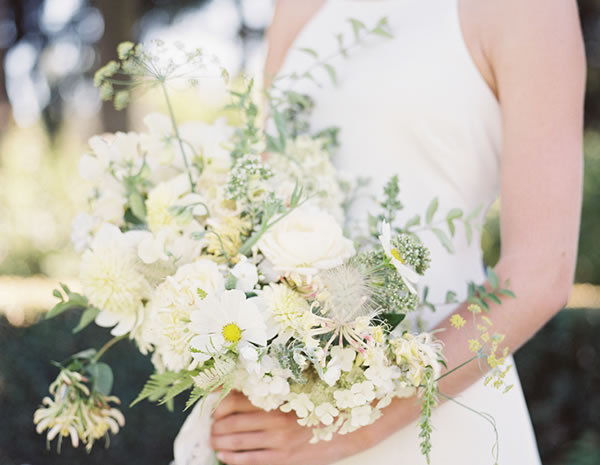 The Flower Appreciation Society (voted the best florist in London by Vogue) also comments:
"In 2019 we are seeing the move away from larger bridal bouquets to smaller, more delicate ones. Seasonality and locally sourced flowers are becoming extremely important with issues of sustainability and the environment in mind. This means that we are designing bridal bouquets using delicate garden flowers, in considered seasonal colour palettes and in light, delicate and airy compositions so that each individual flower has lots of space to shine and be appreciated!
Another trend for 2019 is floral foam free installations. We are trying to design all of our large-scale installations using chicken wire, water vials and vessels instead of the more traditional floristry foam. This is again working with the environment in mind, as floral foam has lots of nasty chemicals in, doesn't properly biodegrade and releases tiny micro plastics into the water when you soak it. This means that installations are becoming more considered and looser in feel as florists have to think cleverly about how to design larger pieces using construction materials that can be reused again and again."


Make Up

Celebrity make-up artist with a huge following, Melissa Sassine says:
"I definitely feel that for the Bridal trend for 2019, less is more.
What I mean by this is in the relation to the colour palette. Even though they want flawless long-lasting Bridal makeup, they still want to look the best version of themselves, without overly dramatic eyes and harsh contours.
My favourite Bridal colour palette consist of:
Beautiful neutral tones & light champagne shimmer on the eyes, fluffy lashes, natural bronzers to warm up the skin, soft highlighters, with pink/nude lustrous lips."


Hairstyles

Bridal gowns are embracing bows this year, and the love for bows doesn't end there. Nicole Kidman's hairstylist Kylee Heath, who has been trusted with the gorgeous locks of Margot Robbie, Sofia Vergara, Isla Fisher and Emma Roberts comments:
"With ribbons and bows being a huge trend throughout award season, I think it will carry over to wedding hair. I love the idea of a low ponytail with a ribbon tied in it or a bow to finish off the look."

Tiffany Thurtell, the creative director at Alan Buki Hair (the celebrity hairdresser who worked on Miranda Kerr and Madonna's hair) comments:
"The biggest wedding trend we have seen coming into 2019 is hair accessories. Hair throughout 2018 became so undone and relaxed giving a very bohemian vibe. Moving into 2019, hair is still looking relaxed with glossy loose waves. However, it is becoming more polished with a glam/luxe vibe. The use of hair accessories is very on trend. Being a hair scarf, hair clips, diamond hair pins. I have included some examples below. Ponytails are also on trend with extensions being used to create a much fuller, textured look. Brides also being able to use extension ponytails for multiple hair looks on their special day."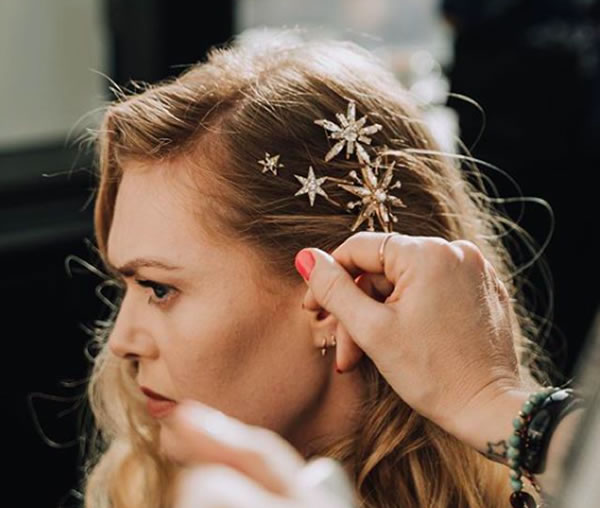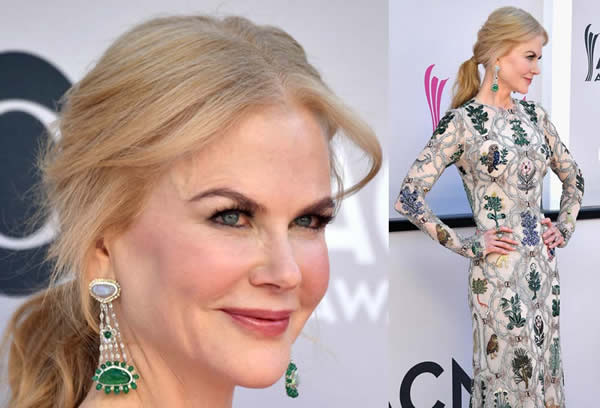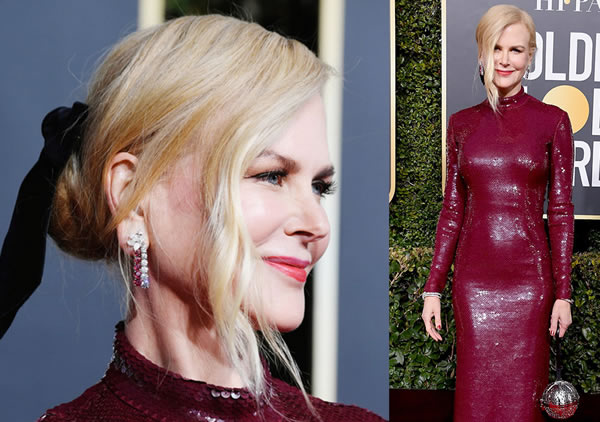 Skincare

The advanced bridal skincare brand and face mask choice for celebrities at the Oscars (landed in the hands of Adriana Lima, Meryl Streep and Ariel Winter), LUIERE comments:
"This year is all about looking natural and flawless with a subtle glow. This is why brides love using hydrating treatments before their big day. Japanese brides-to-be have been using face masks religiously every day for weeks before their wedding, and this is becoming a trend now for skincare lovers around the world. We recommend using a deeply hydrating mask that will hydrate from deep within the dermis, without clogging, leaving you with a beautiful natural glow for the big day."


Cakes

The famous and multi award-winning cake designer Faye Cahill predicts the trend of artistic and fun styles for 2019. Faye comments:
"Think painted watercolour finishes, palette knife textures, fondant ruffles, drippy icing and abstract sculptures of chocolate and isomalt (a technical clear sugar). You will also find fun and optimistic cakes. Following the announcement of living Coral as the colour of the year, I think we will see a move away from dull neutrals to more vibrant hues. For wedding cakes, that will be more restrained than for celebration cakes, however some couples will choose to go all out and express the joy of their union."


Engagement & Wedding Rings

Temelli Jewellery loved by super models Jennifer Hawkins, Rachael Finch and Jesinta Campbell comments:
"Some of our most popular include the solitaire (single diamond), trilogy (three diamonds) and the halo (diamonds surrounding the main diamond). We have noticed a trend towards rose gold and gemstones such as Morganite (peachy colour) and Padparadscha Sapphires (peachy pink colour), as well as white gold with blue gems including Sapphire and Tanzanite.
Wedding bands are steering away for the traditional and going for larger statement diamonds, detailed intricate rings with a twist or detailing and crown shape rings that curve around the engagement ring with larger fancy cut diamonds such as marquise, baguette and pear shape diamonds."




Contributors & Image Credits:

Wedding Planning and Styling Trends by:
Colin Cowie https://www.colincowie.com
@colincowielifestyle

Invitation Trends by:
Giant Invitations: https://giantinvitations.com.au
Inktank Printing: https://inktankprinting.com
Catsy Creative http://catsycreative.com.au

Wedding Gown Trends by:
Alin Le' Kal http://alinlekal.com
@alinlekal

Flower Trends by:
Floret https://www.floretflowers.com
@floretflower
Flower Appreciation Society https://www.theflowerappreciationsociety.co.uk
@ flowersociety

Hair Trends by:
Kylee Heath
@kyleeheathhair
Alan Buki Hair http://alanbuki.com/
@alanbukisalon

Make Up Trends by:
Melissa Sassine https://www.melissasassine.com
@melissasassinemakeup

Skincare Trends by:
LUIERE https://luiere.com
@luiereau

Cake Trends by:
Faye Cahill https://fayecahill.com.au
@fayecahillcakedesign

Ring Trends by:
Temelli Jewellery http://www.tj.net.au/
@temellijewellery