Guest post by David Wicks

Just like wearing new shoes, you may get bunions if the shoe is too tight or blisters due to unnatural friction. There are also issues associated with wearing the wrong wedding band or just wearing a wedding band for the first time. Men are mostly affected because they hardly accessorize. Some of the common issues related to wedding bands include:

Skin irritation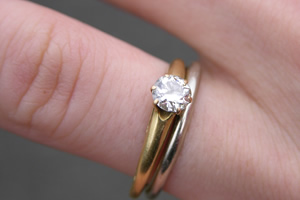 Allergies to metals are widely reported in men who wear wedding bands as their first jewelry piece. This is normally as a result of skin sensitivity to components of the metal making the wedding band. Despite being commonly reported by many individuals, it hardly stops. To reduce these cases, an allergy skin test should be performed by your doctor so that you can get the best fit for you. In cases where you are incompatible to most available options, you may use wooden or ceramic wedding bands.

Wrong sizing

Online shops for menís wedding bands fail to give the right sizes for wedding bands. In other instances, you may not know your exact size giving the jeweler the wrong size. A ring slightly big, too big or too small are reported every day. Where the orders for wedding bands are made at the last minute, it could cause problems because shipping the bands back and having them replaced takes longer.

You can avoid such eventualities by preparing early. This will give you the chance to send the band back, have it refitted or replaced and be back to you in good time.

Uncomfortable bands

The cause of this could be wide wedding bands or rough edges of the wedding band/ring. This is an issue reported where the jewelers fail to give the wedding bands smooth finishing or polishing. The result is; digging into your skin by the wedding band.

In cases where the width of the ring/band is too big, you feel uncomfortable working with the band on your finger. This may force you to remove it every time before working or abandoning it completely. This may also cause bruising and ulcerations on the adjacent middle finger and the pinky finger affecting your productivity.

Bands stuck in the finger

In some cases, a wedding band can get stuck in the finger, making it impossible for it to be removed normally. Sometimes, this may happen in a moment but in other cases, a wearer may have the ring stuck after gaining weight. Surgical interventions may be employed to remove the ring especially when causing a medical problem.
In conclusion, you may want to make memories on your wedding day vowing and legalizing your union. However, if you havenít received the right size, colour or thickness for your wedding band, you may be in trouble. Also ensure that there are no sensitivity reactions of your skin to the metal type chosen for your wedding band. Some of these problems are inevitable, but can be quickly solved by having the right jewelers resize or replace your wedding bands.

---------------

Author Bio
David Wicks is a consultant for a leading jewelry shop in the UK. He loves photography, travelling and blogging. He advises buyers on challenges to be expected when buying womenís or menís wedding bands from online shops or local jewelry shops. Read more on his expeditions, get a peek into the best wedding jewelry, and travel advice.