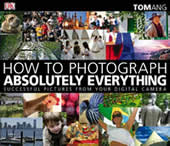 HOW TO PHOTOGRAPH ABSOLUTELY EVERYTHING
published by DK (Dorling Kindersley)
Available from ilovebooks.com.mt
Whatever you want to photograph, discover how to get it right every time with the expert photographer and bestselling author Tom Ang.
From still life to children's parties, make sure you're picture perfect with Tom Ang's guide to taking photographs, now in paperback.
Follow straightforward instructions to discover what equipment you'll need, the best approach for each subject and how to compose, light, frame and take great shots. Checklists give instant advice on getting results, while 'tricks of the trade' show you how to turn a good picture into a great one. Plus pick up valuable tips on everyday photography, including passport shots and displaying items on eBay.
---
---